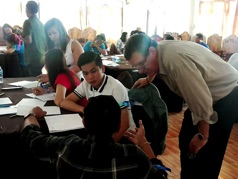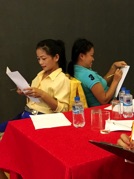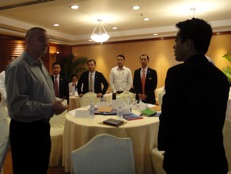 Robert Brand Training's goal is to inspire you to learn and deliver the skills and knowledge that increases your productivity and success
Robert Brand has been delivering training solutions for more than eighteen years teaching leadership, management and business communication skills at colleges, universities, and to the staff of many companies, including Mitsubishi, Hewlett Packard, Siemens and Hilton Hotels.
Robert has lived in Thailand almost 30 years and speaks several languages including Thai fluently. He understands the many difficulties of working and communicating in a multicultural and multilingual environment, and can help you overcome these challenges.
Mr. Brand has successfully led multicultural teams of up to 120 people in various business sectors, including IT, hospitality, education, and manufacturing.
Our programs are highly interactive:
> Group exercises and discussions
> Business simulations and role plays
> Experiential activities & educational games
> Participant led presentations
> Relevant and concise course material
"...the progress of our Club's personnel has improved remarkably. Besides having well structured lesson plans, it seems he is gifted with the ability to make learning an enjoyable experience..."
Michael E. Baud, General ManagerThe Heritage Club
Robert Brand's Qualifications
Certified Technical Trainer (CTT+)
CompTIA
Project Management Professional Certificate
(PMP) Project Management Institute
B.B.A. in Management
University of Sheffield
Diploma in Educational Media & Instructional
Design Capilano College
English Teaching Certificate (CERTESL)
University of Saskatchewan
Microsoft Certified Trainer (MCT)
Microsoft
Microsoft Certified Professional (MCP)
Microsoft
Project Management Certificate (Project+)
CompTIA
Food & Beverage Administration Certificate
Granton Institute of Technology
New Media Production Certificate
Vancouver Community College